Sustainable Certifications
NOT A PRODUCT WITHOUT A TRACE!

We first became collectively aware of the impacts of the fashion industry in 1990, when cases of child labour within the sports industry were made public. Since then, collective efforts to prevent abuses in this sector, as well as the emergence of numerous international institutions, non-governmental organizations, trade unions and the collaborative work of companies and governments have helped to measure and reduce social and environmental impacts.
However, there are still many unanswered questions that we at FastLove ask ourselves with every product we launch in order to achieve the Total and Unique Wellbeing that we want to achieve:
Is our effort enough to mitigate the impact of fashion on the planet?
Are we managing to improve the working conditions of the people who work in the sector?
How can we join forces with other companies and organizations to have a greater impact on our environment?
How can we involve governments in our mission?
In order to answer these questions and to be able to verify our good practices both in the supply chain and in our operations, we rely on various seals and certifications that guarantee the veracity of our commitments and can be recognized by any consumer in a simple way.
B-COME:
B - COME is the a digital platform that tracks, evaluates and explains the sustainability performance of designed products and organizational best practices.
It generates a data matrix according to impact areas and an associated score that allows to identify the environmental and social performance of the products and companies it monitors.
→ We work collaboratively with B - COME submitting each of our designs to a life cycle analysis that allows us to improve with each drop we make.

CRADLE TO CRADLE:
One of the most demanding in the industry, this certification evaluates the safety of products for humans and the environment, the standard aims to encourage companies to develop products designed to eliminate waste generation through closed loops.
Cradle to Cradle evaluates products in five categories: material health, material reuse, renewable energy and carbon emissions, water and social equity) and assigns an "achievement" level to each.
→ The stone paper from which we produce our labels has achieved Cradle to Cradle Silver level.

ECOLABEL:
The EU Ecolabel for Apparel, Bedding and Indoor Textiles is a voluntary eco-labeling program of the European Commission that encourages the use of sustainable practices in textile manufacturing, including quantitative restrictions on wastewater emissions and hazardous substances. It also recommends the use of sustainable fibres and that eco-labelled products be made from 20% recycled material or reduce C2O emissions.
→ Q-Nova's recycled nylon is Ecolabel certified.
GLOBAL RECYCLED
STANDARD (GRS):
The GRS (Global recycled standard) addresses verification of raw material origin, chain of custody, environmental principles, social requirements and labeling of textile products made from recycled materials.
→ The recycled polyamide Q-Nova from which we make our seamless garments and the Recy-tex from Jordatex from which we produce our bags are GRS-certified.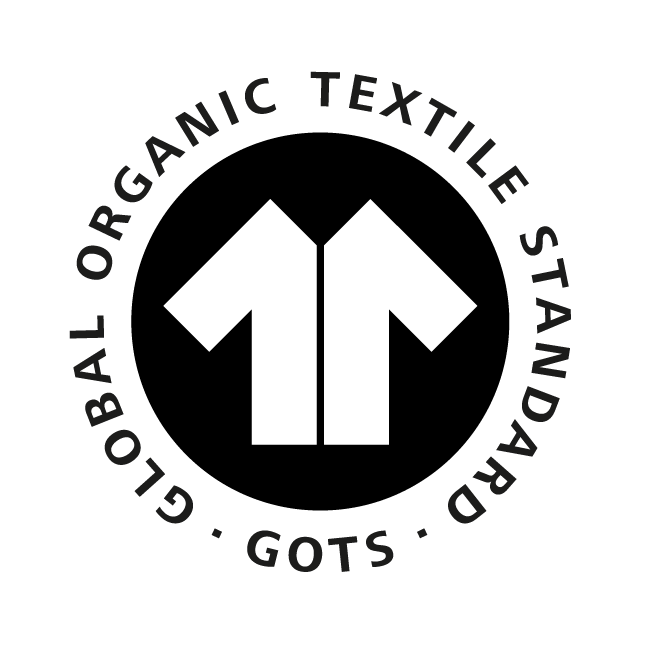 GLOBAL ORGANIC TEXTILE STANDARD (GOTS):
This is a certification standard that defines the requirements to ensure the organic status of textile products. Only textiles made with at least 70% organic fibres can obtain this type of certification. GOTS evaluates the organic origin of textile fibres, the absence of toxic elements and the respect of decent working conditions. The seal covers from the processes associated with obtaining the raw material - through a responsible harvest / production with the environment and the social environment - to clothing and other associated processes. It evaluates each of the phases of the manufacturing process, verifying that they are made on the basis of the established criteria. The GOTS seal can therefore be for the raw material, for the manufacture of a garment or for the finished product, depending on the phase being evaluated.
→ The manufacture of our drop 002 short-sleeved T-shirts is carried out in accordance with the GOTS criteria and the process is verified in order to obtain the seal. This verification does not include the associated wet processes, such as the printing of the designs.
PETA APPROVED VEGAN:
It is the certificate granted by PETA (People for the Ethical Treatment of Animals) to those textile products (also fashion accessories and furniture) that have not used or harmed any animal directly or indirectly in their processing, manufacture or handling. This seal ensures that the garments do not contain animal-derived fabrics (such as leather, wool or silk). In addition, it certifies that a garment is animal-friendly because during its entire manufacturing process,
→ The drop 002 short-sleeved T-shirts are certified with the PETA Approved Vegan seal, guaranteeing that from the collection of raw materials to the final manufacture (excluding the printing process), no animal has been used or harmed.
OEKO-TEX STANDARD 100:
Oeko-Tex Standard 100 is a global uniform testing and control system for textile raw materials, intermediate products and end products at all stages of production that guarantee the absence of toxic substances in them.
→ All our products have passed this chemical compliance system.
HIGG INDEX:
The Higg Index is a set of tools developed by the Sustainable Apparel Coalition that allow brands, factories and producers to measure the social, environmental and labor impact of their products, as well as identify possible improvements from a holistic sustainability perspective.
→ Our Q-Nova is part of this index.

FISCAL FOOTPRINT:
The Knowcosters Foundation monitors companies to verify that they pay their taxes in the country in which they operate and favoring fiscal transparency.
→ We have the Fiscal Footprint seal as a guarantee that we pay taxes in Spain.

FSC:
The FSC Certificate (Forest Stewardship Council or Forest Stewardship Council) guarantees that the management of forest resources (paper, cardboard, rubber) meets social and environmental standards in favour of the conservation and recovery of the environments and ecosystems in which it is carried out. It can also certify the recycled origin of the material.
→ Our recycled packaging is FSC certified.

EUROFINS:
Is an international group of laboratories that offers analytical and scientific-technical services of high rigor to different industries such as textile.
To guarantee the quality and safety of our products, we subject them to various chemical and physical tests in their laboratories.